First published in Visions for Europe number 2 · 2024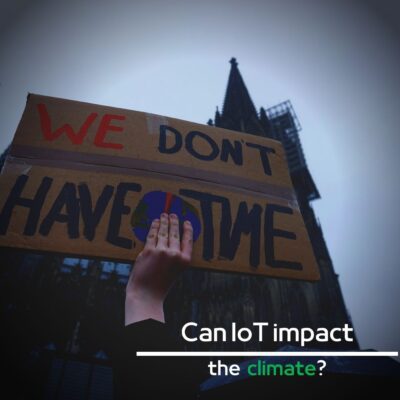 Nowadays, everything is getting more and more connected. The digitalisation of our society during and after the pandemic has genuinely accelerated. The innovators are presenting innovations. The product developers are launching newer and more innovative products, one after the other. Most have heard about the Internet of Things, with innovations and products breaking new boundaries. But how can IoT help us reach the Agenda 2030 goals? Doesn't putting more hardware on the market mean more manufacturing of electronics? Doesn't it result in building more infrastructure and data centres, all adding a negative impact on the climate?
At the beginning of the 90s, I landed my first sales job as a salesman of radio systems for data transfer, systems that could interconnect machines and exchange information. The benefits of remote control were obvious, less travelling, faster response to problems, better analysis and, in most cases, decreased costs. The systems were the predecessors to IoT, the Internet of Things, where smart things can connect and exchange information. However, throughout my career, I have woken up every morning knowing that I contribute with reliable and sustainable tech solutions that will positively impact humanity. Let me invite you to learn more, as IoT is a huge possibility for us to reach our goals faster.
More devices are not the definite answer
I believe the goal is not to sell as many devices as possible but to ensure that every device put out there will make a change for the better. The more things that get connected is not the automatic answer to a positive effect on sustainability; it will not be an automatic route to the Agenda 2030 objectives. But the Internet of Things, connected devices sending valuable data, can be an enabler.
What is the Internet of Things
The Internet of Things (IoT) consists of billions of physical devices worldwide that collect and share data via the internet. IoT's core is the physical objects – the "things", things that consist of hardware with embedded sensors and software. Things connected to public or private internet that exchanges data with other devices and systems. These things are everyday things found in households, businesses, factories, farms and cities. These devices are the "smart things" found in refrigerators, lights, sensors, door locks and washing machines.
The devices send their data to an IoT platform, essentially a database that gathers data and makes it available to present graphically to the user. Data can be visualised to the user via an app, a web portal or similar, or shared with other systems, where systems can communicate with other systems, creating powerful IoT ecosystems.
Why should our organisation look at IoT?
I already mentioned the climate as a beneficiary of IoT. Studies have shown that more than 80% of IoT users use IoT technology as an enabler to change their environmental impact. But as we all know, a change is often faster if financial objectives are also in the mix. And as the business benefits of IoT are many, both climate and business objectives will accelerate the development. I will give you a few more reasons why companies embrace IoT.
1. Business continuity
IoT helps businesses quickly adapt to crises or unforeseen situations. This was evident during the COVID-19 pandemic and its aftermath. IoT can keep companies running better in difficult times. Remote control and gathering data are two of the most valuable effects IoT brought to organisations when we could not travel.
2. Driving innovation
Businesses are using IoT to tap into previously untapped data to drive strategic thinking and develop innovative projects to ensure the company is doing its best to stay ahead of the curve. Companies can gain data-driven insights from IoT data to help them make better business decisions. Machines can use AI and other analytics models to make the right decisions faster.
3. Business Success
IoT is a future-proof technology. Most companies using IoT say it is critical to their future success. IoT is also creating new business models and revenue streams, enabling a seamless connection between the physical and digital businesses to accelerate value creation.
4. Improving the customer experience
A typical example is manufacturers who have implemented sensors in their products to get feedback on their performance. The sensors can help companies see when a component is about to fail and replace it before it breaks. Companies can also use sensor data to make their systems and supply chains more efficient. They will have much more reliable real-time data on how components are affected and insights into what is working in reality. IoT will lead to faster adaptation to the market's actual needs and allow new products and services to be adapted to the actual customer experiences more quickly.
Who benefits from using IoT?
There are many exciting applications and use cases within IoT, but they will not lead to a better climate. I know applications that for sure will not. One is the connected hairbrush, which analyses your hair and tells you what shampoo to use to get the most beautiful hair. But there are many other applications where IoT will make a change. Let me share four examples.
Predictive maintenance
Moving from calendar-based service intervals and maintenance to predictive maintenance has economic and environmental benefits. Analysis of the conditions of the machines in real time eliminates unplanned downtime. Reducing maintenance costs and stopping unnecessary replacement of parts are two benefits. But that is not all. Downtime due to maintenance can be planned rather than occurring unexpectedly. Condition-based monitoring systems are based on real-time data and actual operating status, not calculations or decisions on a fixed service interval. By assessing the real-time condition and status of the equipment, CBM systems can prioritise and optimise maintenance resources. Such an approach lowers spare parts costs. It reduces downtime and minimises maintenance time.
The Internet of Things allows it to equip machines with constantly connected sensors. With advanced analytical tools, maintenance personnel can decide when maintenance needs to be performed based on operational data.
Retrofit IoT
The world is full of semi-old machines that could be used longer than they currently are. Some machines are not used as they are not modern. Some because it is a potential risk not to have the latest technology. By adding IoT to them and retrofitting them with smartness, you can benefit from IoT. Data analysis, predictive maintenance and remote connectivity. Retrofit IoT is a cheap but effective way to help machines live longer, thus having a positive impact on the climate.
A CBM system is easy to deploy and can be retrofitted to existing machines, making it a cost-effective way to manage maintenance even in harsh industrial environments. Systems can analyse wear or overheat in bearings, conveyor belt pulley wear, overload or underload, temporary power failures, low fluid level or lack of lubricants. Systems can identify a lack of coolant, bad pump performance, clogged filters and air leaks, to mention a few. IoT can for sure make things last longer and, at the same time, positively impact the environment.
Healthcare
There is a huge benefit in treating patients at home rather than at the hospital. There are societal gains, and there is a gain for the individual. Using digitalisation and IoT can enable treatment at home. With IoT, it is possible to build systems for care at home where the patient can take tests, book digital medical appointments and be in the environment that is most comfortable and safe for the individual, but with constant connectivity and monitoring. As the price of sensors is decreasing, it is possible to scale up these efforts to reach more patients at the same cost—democratisation, with IoT driving developments. Trials in Sweden that I have worked with where multi-sick elderly people have been tested show significant cost reduction and increased patient quality of life.
Preventive health is another trend in health. Sensors to understand health conditions are now widely available in our smart wearables. These sensors are getting better and better, and healthy people will also be part of the increased digitalisation. Wearables we already use can help us gain early indications of health problems. And this opens up a new market where our doctor can call us and ask us straight out -what's going on in your life right now? I see a worrying trend in your health conditions.
Air quality
We have been talking about the importance of clean water for years. But indoor air quality is one of the essential components of our well-being. And since we spend most of our time indoors, we need to ensure that we breathe healthy air. In these times of global pandemics, air quality is also more critical than ever before. Many countries are tightening the regulations in this field, and companies need to measure and control the air quality.
Poor air reduces our productivity. Reduced productivity also means that our ability to make decisions is affected. The levels at which we start to see these effects are not uncommon in indoor air. A two-year initiative led by academics at Oxford Brookes University was carried out by testing workplaces over two years, using IoT sensors to monitor fluctuating CO2 levels. Employees were carrying out various tests three times a day. The study's results confirm that the more carbon dioxide in the air, the lower productivity will be. Employees work 60% faster with lower carbon dioxide levels and their test scores improved by up to 12% under the same conditions.
IoT can be retrofitted to buildings. One example is air quality measurement sensors to ensure that air quality is within the threshold set, that people are safe, and that they stay healthy and fresh.
Creating ecosystems
With IoT, it is easy to build vital ecosystems. Let us use the example of air quality. The sensor sends data to that platform. The platform shares the data with other platforms, for example, building automation systems. The automation system can identify problems, increase ventilation in areas where the air quality is below the threshold, and decrease it in areas where the air is good or no one is present. This will lead to a robust ecosystem that can optimise energy use.
Where do I start?
These are just four examples of IoT put to use in an environment where they will positively impact the environment and the cost. IoT can be used in many areas and contribute to meeting the Agenda 2030 objectives set up. But how do you get started with IoT? I will share a few insights.
First, involve your team, ensure they are on board, get their input, and create a team with as many disciplines as possible.
Secondly, where organisations often fail with IoT, you have to answer the question, "-what is the business case?".
From there on, with a great team and a business case, you can find a partner that can help you with the right technical solution, find a solution that you can begin testing and help you collect and analyse data—a word of advice. Don't overthink the solution you intend to test. You may think that temperature and humidity are the key factors you want to measure, but later on, you understand that you also want to measure presence in a room. So start with tests where you measure as many variables as possible, then analyse the data collected. After that, you can decide what kind of solution you need when going to market.
Find a great IoT partner.
The IoT market is enormous in terms of the number of companies. There are start-ups, and there are more experienced partners. Being an experienced IoT expert, I have learned a trick or two. First, if you are a European company, source electronics from other European companies and make sure they use local subcontractors to reduce transport. Also, make sure to select a partner with high sustainability standards. A supplier that responsibly secures a low carbon footprint and a supplier has good working conditions, and is on top of all the Agenda 2030 objectives.
As a board member of the EUTECHs IoT alliance, I want to end this article with a recommendation. The IoT alliance is a good starting point to nurture your ideas, learn more about IoT and finally find the right IoT partners.
This article was first published in Visions for Europe, EUTECHs Quarterly magazine: