The network architecture of 5G networks is based on two different network structures, 5G Non-Standalone Access (5G NSA) and 5G Standalone Access (5G SA). So what are the different benefits, when are they used and why do you even need to know about them? I will answer these questions below. But first, let's look at the technical differences.
What is 5G NSA?
5G NSA is best described as a technology with one foot in 4G and one in 5G. NSA is, as the name suggests, a 5G service that is non-standalone 5G. It is simply built on top of an existing 4G network. NSA makes it easier for network operators to build a 5G network because they can reuse the existing 4G infrastructure in many cases. At the same time, NSA networks are more complex as they have both 5G and 4G at the access network level.
So what is 5G SA then?
SA is best-described as all-out 5G. SA is a 5G network with dedicated components and infrastructure that provide huge speed improvements and minimal network latency we want out of 5G. SA delivers a super-fast and flexible network with ultra-low latency. SA thus connects the 5G radio network directly to the 5G core network. Infrastructure such as base stations, backhaul links, and core networks are all dedicated to 5G, which can maximize the potential of 5G networks. 5G SA is completely independent of 4G networks and offers a completely independent operation of a 5G network without any interaction with 4G. SA can therefore be seen as the final form of 5G.
Dual Mode 5G
Dual Mode 5G in simple words means support for both NSA and SA. If a device supports both of these networks, it is called a Dual Mode 5G-supported device.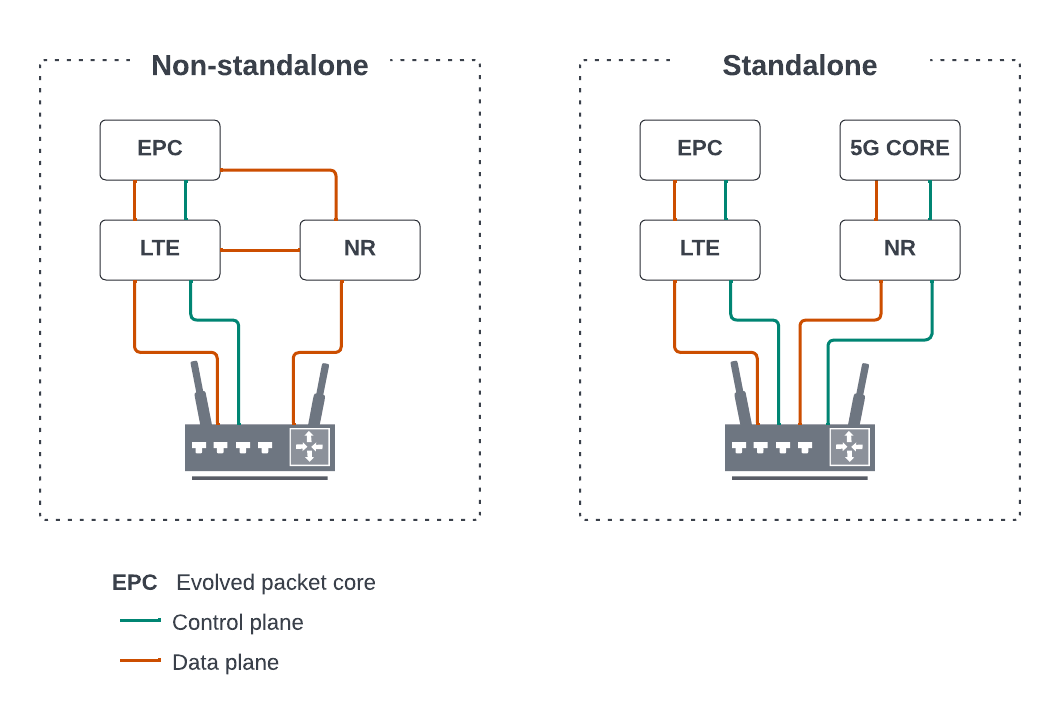 5G NSA and 5G SA how will it deployed?
The disadvantage of SA is that the initial investment is very high and the roll-out of the networks is a major undertaking. For operators that mainly want to deliver high-speed connectivity to consumers, the non-standalone architecture (NSA) is most attractive, as it allows them to leverage existing network investments – instead of building out a completely new 5G network from scratch. This is why many countries around the world will choose to move slowly from NSA to SA.
For operators who are not just targeting consumers, but are thinking about applications targeting organizations and businesses. With applications such as smart cities, smart factories, and other applications that require fast, low-latency connectivity, a standalone architecture (SA) makes more sense. SA offers other opportunities to develop, deploy and manage services in an architecture that allows services to be logically separated and shared across networks.
NSA and SA are not an either-or choice, but rather a decision that needs to be made sooner or later. At some point, of course, NSA and SA will converge into a full 5G architecture.