As I am invited to speak about 5G at a LoRaWAN event (ThingsConference 22nd of September 2022), I thought it was appropriate to dig into the aspects of LoRaWAN vs the different, current 5G standards for LPWAN. I believe that LoRaWAN and 5G are like a tug of wars. On one side, the LPWA technologies of 5G are grandfathered in from the 4G networks and are now a part of 5G. On the other side LoRaWAN, as is the only viable long-range LPWA after the Sigfox sunset in 2022. But is it a negative tug of war? Are not mixed landscapes with several alternatives to connect IoT devices resulting in better technical solutions, one technology pushing the other forward?
And the very central question:
Would NB-IoT exist without LoRaWAN?
Core values
Before preparing for the event, I promised to lean on two values.
1. "Be honest and do good shit" Joakim Jardenberg on how to behave on the internet. I think this one applies to life in general, but this was a core value for my research.
2. "Don't knock your friends. Don't knock your enemies. Don't knock yourself." Alfred Lord Tennyson, as in the LPWAN sphere, the different technologies advantages seem like a very infected question.
So starting off the research I found a comparison from LoRa Alliance. The comparison is a bit embarrassing if you share my two values above. I will dare to challenge a few comparisons in a series of blog posts. I will not publish the comparison here, but here is what they write in their infographic first line of the comparison:
LoRaWAN -Superior low power standard designed for LPWAN with field proven 10-15+ year battery life
NB-IoT/LTE-M -Complex 3GPP protocol tuned down for LPWAN does not meet target performance required for battery constrained use cases
Proven battery life?
My first issue is the "proven battery life" statement. As the LoRaWAN-standard is from 2015 (I think), it can not have been proven for 15 years. Of course, they can have a hunch or calculation supporting it, but it is, per se, not proven.
However, LTE CAT-M1, LoRaWAN and NB-IoT are all designed for extended battery life. None of them is proven to have 10-15 years of battery life in the real world. It is all theory. Regarding battery life comparisons between the three, it is not that simple to say who is the winner. The radio technology in all of the standards shares common physical challenges.
I conclude that the battery life will depend on
– The distance from the base station
– The link budget
– Spreading factor or the air data speed
– The packet size
– Re-transmissions
– Collisions
Comparing CAT-M1 and NB-IoT
Let´s first focus on the performance of the cellular standards. There are numerous reports out there. One called "Power Consumption Analysis of NB-IoT and eMTC in Challenging Smart City Environments" by Pascal Jörke, Robert Falkenberg and Christian Wietfeld is a good start. In this case, eMTC is the same thing as CAT-M1. The report points out that the expected battery life of CAT-M1 is superior to NB-IoT under some conditions.
In this case, both technologies use the same power-saving techniques. They use the same repetitions to extend the communication range. However, the analysis reveals a different data size, rate and coupling loss performance. At 144 dB coupling loss, CAT-M1 has a 4% better battery life than NB-IoT. But at 164 dB coupling loss, NB-IoT battery lifetime is 18% better than CAT-M1. If you analyse the data in the report, the overall picture shows that in areas with a coupling loss of 155 dB or less, the winner is CAT-M1. It performs better in terms of energy efficiency, but at the same time, it needs more bandwidth. If you want to check for yourself, download the report and look at Figure 10.
In the report, with a coupling loss of 144 dB, the calculated battery life is 25 years with an 84-byte payload sent once per day. With 154 dB coupling loss, we are close to 18 years; with 164 dB coupling loss, the battery life is four years. Worth mentioning is that NB-IoT is coming in a new iteration, called NB2. NB2 has a 14 dB transmission power option, a critical factor in increasing battery life in good conditions.
Another thing to remember is that NB-IoT supports TCP and is used with TCP/IP in many cases. However, the technology will be more efficient without TCP/IP. 5G NEF is another innovation that removes the need for TCP overhead and can result in better battery life. We will get back to NEF in a later post, I hope.
Comparing with LoRaWAN
So if I compare the battery life with LoRaWAN, I get similar results. If you want to compare with LoRaWAN, I ask you to check out this calculator. In this case, I used the same metrics as above. I calculated a payload size of 84 bytes and set it up to send messages once a day. LoRaWAN handles only 160,7 dB coupling loss, so the numbers do not correlate to 5G. But with these metrics, you will get between 20-32 years of battery life, according to the calculator. Now, I am not sure if SF12, in this case, really makes sense, as with SF12, you need two transmissions to send the 84-byte payload. If the calculator divides it into two transmissions is unclear.
Of course, the assumption is also that you will not suffer from collisions, re-transmission or battery ageing. Like with the report covering CAT-M1/NB-IoT above. In the analysis of the cellular networks, remember that the frequency band is controlled spectrum and that the collisions are not likely to happen as frequently as in a free radio channel. Of course, both LoRaWAN and cellular technologies can suffer from poor reception, interference or similar. But free spectrum is not controlled by any means.
Are there other reports to support this?
But there must be more on the topic, right? As I am from Sweden, I trust Swedish sources a lot. So I studied a report from KTH, the Royal Institute of Technology in Sweden, called "Degree Project In Electrical Engineering, Comparison of LoRa and NBIoT in Terms of Power Consumption", you can download it here.
Quoting the report, "We assume the message is sent once an hour. Then we plot the energy consumption for every transmission and sleep period vs payload size. […] In this scenario, NB-IoT has a higher energy consumption when the payload size is minimal. With the increase of the payload size, the energy consumption of NB-IoT is smaller than SF12 but still larger than SF7."
The comparison of the three is as follows: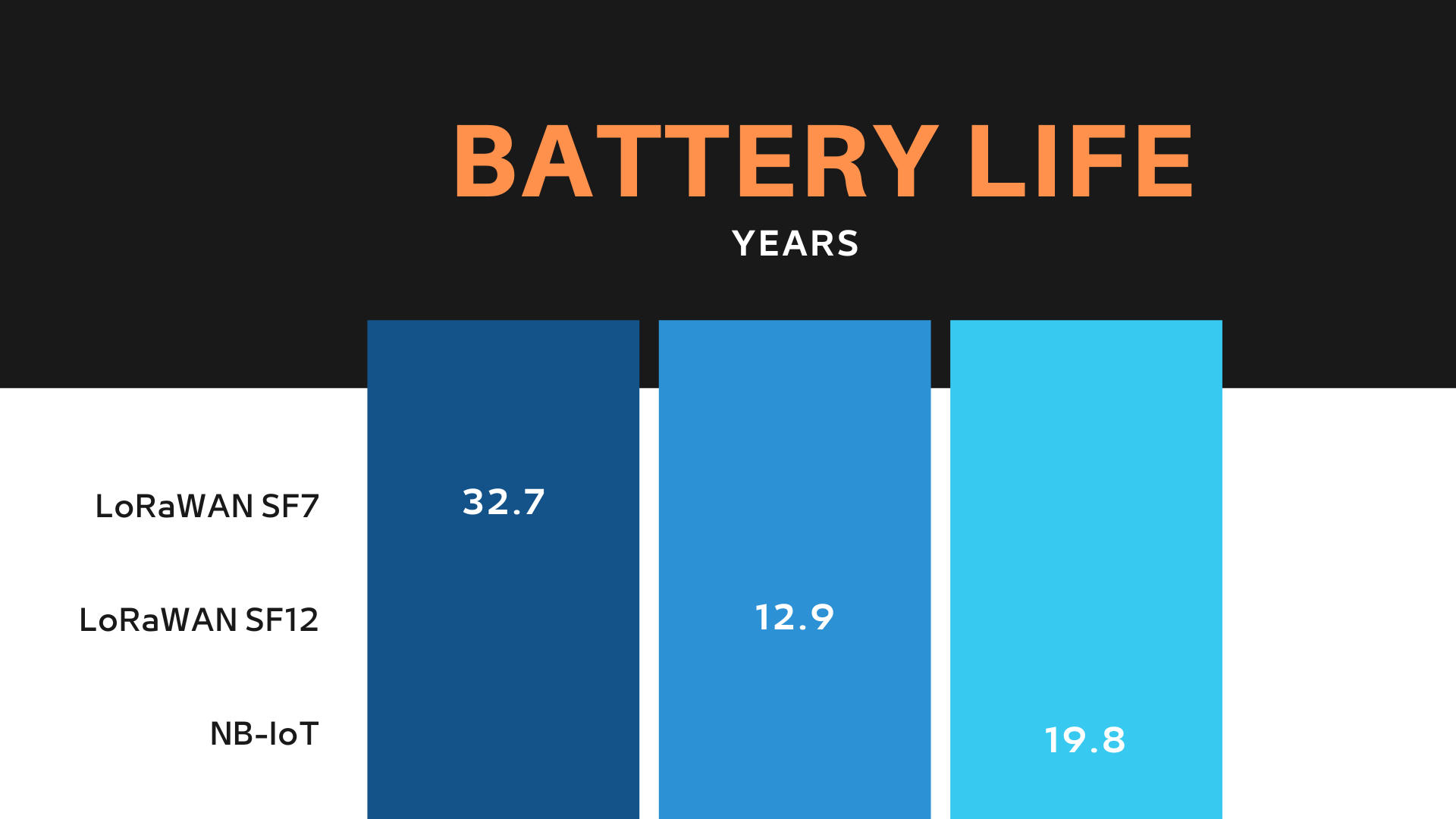 So if you look at the data, you see a benefit for LoRaWAN SF7 across the board. But for SF12, NB-IoT is superior already from 30 bytes. This diagram indicates the energy per transmission as a function of payload size for SF7,
SF12, and NB-IoT measured in mJ.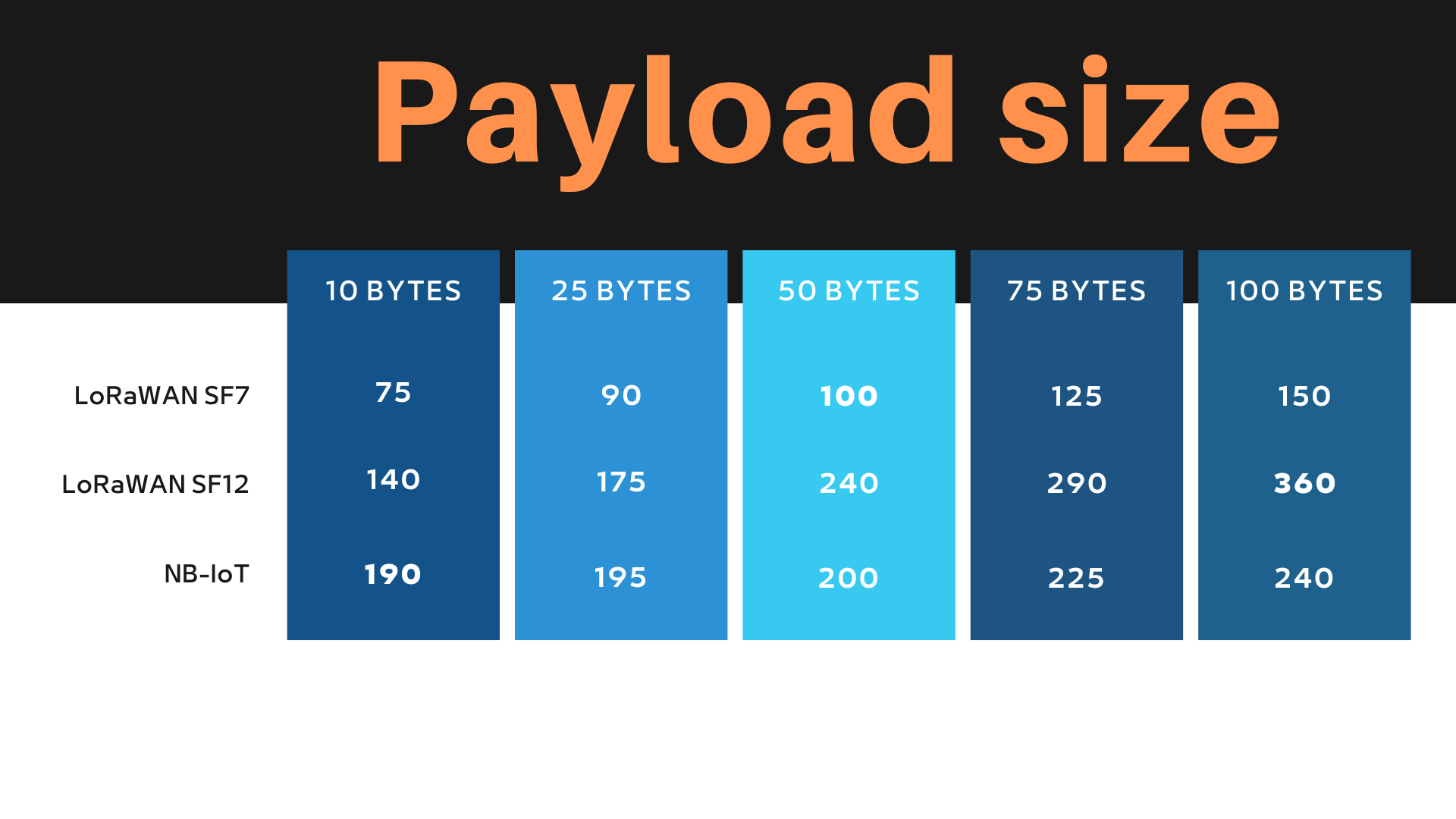 According to the ThingsNetwork -with a spreading factor of 7, you will get the total link budget of -123 dBm receiver sensitivity and an additional 14 dBm transmission power, ie 137 dB link budget. If you remember, CAT-M1 is more power efficient than NB-IoT at that point. To reach the total of -161 dB link budget, you will need SF12. With SF12, you will need to divide the data package into two transmissions if you want to transmit 100 bytes. There are a few disclaimers in the analysis from KTH; one is that they use an older version of the NB-IoT module (rel 13) that consumes more power than newer modules. Nevertheless, LoRaWAN is not affected by this.
There must be more
Not satisfied with just these references, I dug deeper. I found another thesis from the University in Lund, Department of Electrical and Information Technology Faculty of Engineering by Nikolaos Tsavalos and Ahmad Abu Hashem.
This thesis compared the battery lifetime of different LPWA technologies on average coverage (MCL=150 dB) and medium payload (50 bytes/2 hours). In my next post I will describe MCL, but it means Maximum Coupling Loss (MCL) and describes as the maximum loss in the conducted power level that a system can tolerate and still be operational. LoRaWAN works best below 156, that I think is why the limit was chosen. Battery life is a 5 Wh battery. So these are some of the results.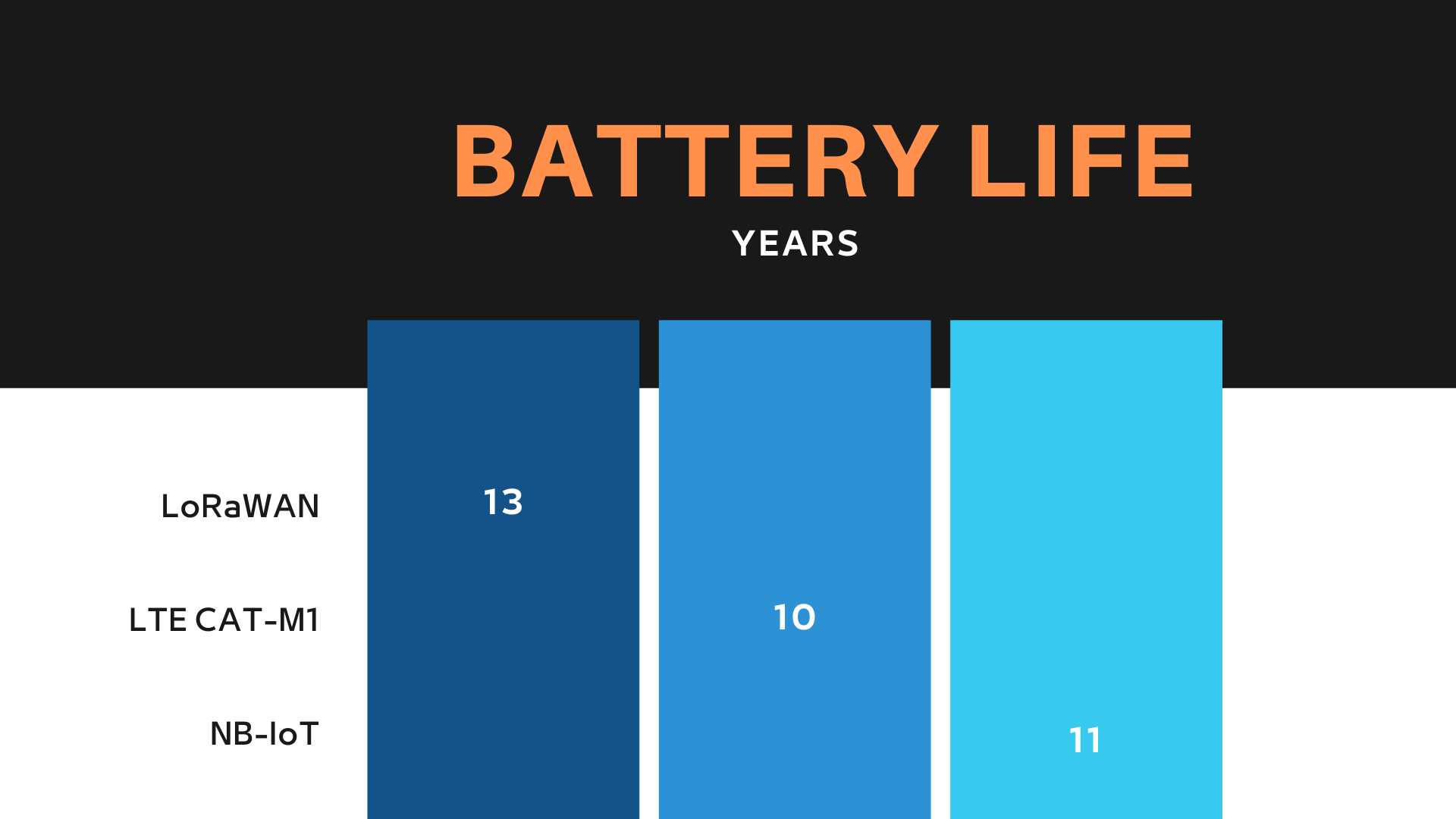 Conclusion
Let us agree on one thing. Many factors come into the equation. From my personal view, there are two factors in play. Hardware and software. Hardware as in additional sensors on the board. As in the processor in the device in question. The processor that, more than anything, will affect battery life.
I have heard LoRaWAN devices only last for a few months in real life. The reason? Well, they have an embedded GPS that is active more than it should; hence the battery is drained faster —a combination of hardware and software that was not optimal.
A suggestion to LoRa Alliance would be to rewrite this line in the infographic as follows:
LoRaWAN -low power standard designed for LPWAN with up to 10-30 year battery life
5G -has a low power standard designed for LPWAN with up to 10-20 year battery life
3GPPs view on LoRaWAN
Regarding 3GPP, which is in charge of the 5G standardisations, they have not published a similar document. Nor has the GSMA. They do not compare anything with LoRaWAN on the interwebs. It seems like LoRa Alliance bothers about the 5G technology and is balancing a thin line between fact and fake news to show the world its superiority. I have to finish this post with the last quote: "The competitor to be feared is one who never bothers about you at all, but goes on making his own business better all the time." Henry Ford. LoRaWAN has its highlights, but this way is not the way to present them. Sorry for being hard on you, LoRa Alliance, but I am just trying to be honest and do good shit.
My next post will cover the distances these standards can reach.