I am continuing with the second post in my series LoRaWAN vs 5G to prepare for the upcoming ThingsNetwork conference. As I am invited to speak about 5G at a LoRaWAN event (ThingsConference 22nd of September 2022), I thought it was appropriate to dig into the aspects of LoRaWAN vs the different, current 5G standards for LPWAN. In the last post, we compared battery life; in this post, we are looking at the distances these technologies can reach. I found a comparison from LoRa Alliance that I mentioned in my last post, it states that:
LoRaWAN: coverage up to 5 kilometres in urban areas and up to 15 kilometres in rural areas.
LTE: Coverage depends on the operator LTE target services for voice and data.
Base stations and the bands
This argumentation sort of falls flat. The LTE distances are not mentioned. I am not sure what the facts behind these statements are, to be honest, but it seems like we are comparing different things. So as I interpret this, LoRa Alliance means that LoRaWAN can be built everywhere by anyone, but the 5G standards can not. Ok, first, let us look at the service of voice and data. The operators do not only have voice and data as target services. Most large operators have IoT departments. And many of the energy meters, the AMR segments, are running NB-IoT, at least in Sweden. The operators see IoT as a market. If there is a market, there will be base stations. But there can be other circumstances forcing the operator to expand coverage, it can be mandatory in the license to cover a specific area. In Sweden, where I live, some bands for 5G have a clause that they must cover a particular area or a certain amount of the population. But, there are also many things happening in the private 5G networks, where you can build 5G coverage where ever you want.
Looking for distance? -Enter the link budget
Ok, so let us look at the first statement, LoRaWAN can reach a certain distance. But there is no comparison to 5G. That is something that needs a link-budget calculation.
A link budget is calculated to compare different technologies to see if a system will have sufficient signal and margin to function correctly. Calculating the link budget is important to determine whether the transmitter's signal is strong enough to reach the receiver. Radio links such as mobile networks or LoRaWAN thus behave similarly in terms of link budget. With this knowledge, it is possible to determine whether a system's power and gain levels are sufficient.
A simple equation for the link budget looks like this:
Received power (dBm) = transmitted power (dBm) + gains (dB) – losses (dB)
In this case, we will not compare losses but look at transmitted and received power. This is called Maximum Coupling Loss (MCL). MCL describes the maximum loss in the conducted power level that a system can tolerate and still be operational.
The MCL for the different technologies are as follows: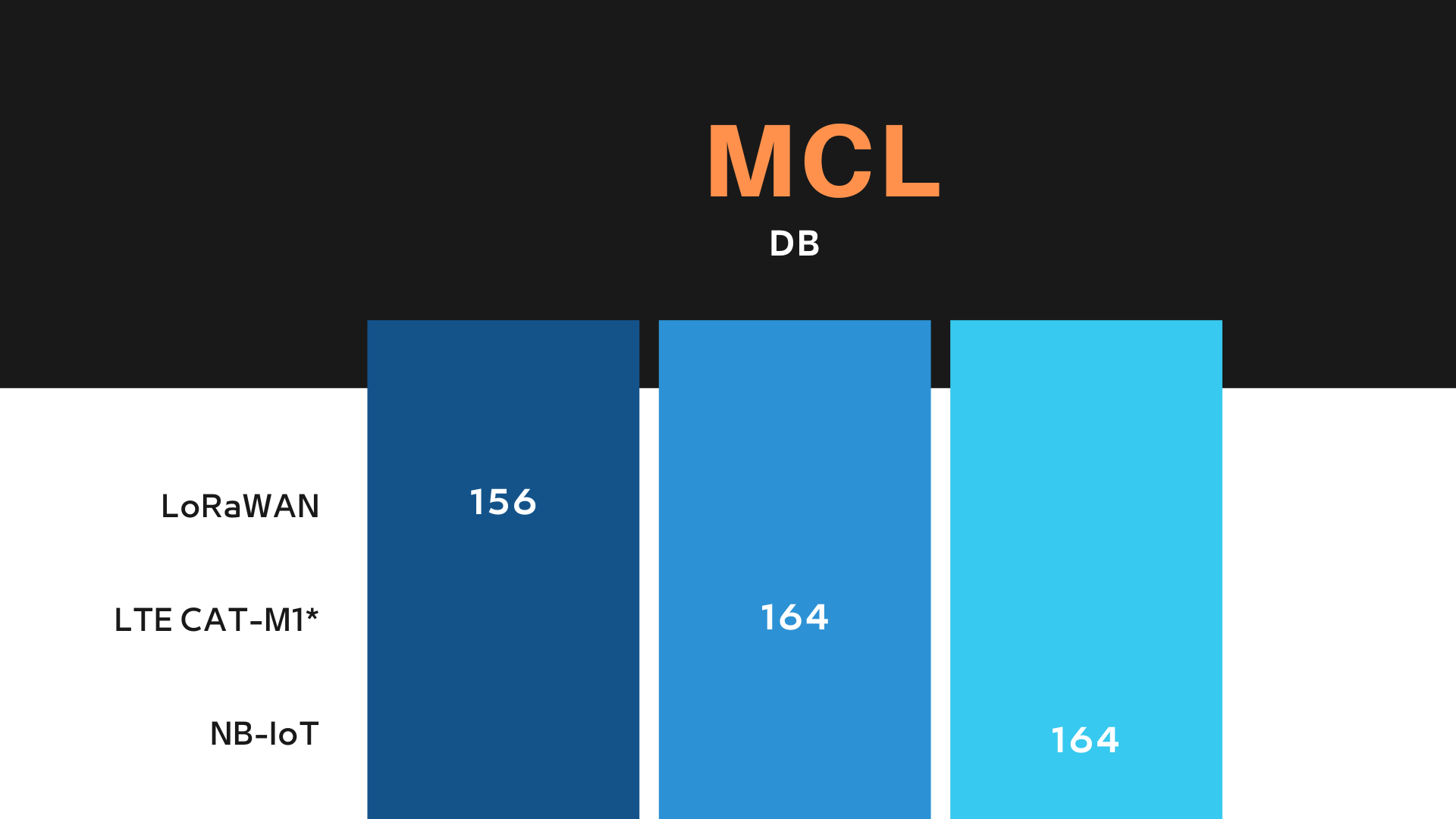 *) For 5G MCL for CAT-M1 is higher than for 4G.
These figure was found in the thesis from University in Lund, Department of Electrical and Information Technology Faculty of Engineering by Nikolaos Tsavalos and Ahmad Abu Hashem. In theory, NB-IoT and LTE CAT-M1 have an 8 dB advantage; every 3 dB is a theoretical doubling of the distance the signal can reach.
What else matters
Now, what else has an impact? Well, the frequency. But the characteristics of the frequency bands are similar as they all operate in the high UHF band. As the link budget or MCL is clear, and the bands are very similar in characteristics, it is down to the modulation or the signal integrity (other transmitters on the channel).
Let us look at what science and testing say. First, I will look at the KTH Comparison of LoRa and NB-IoT in Terms of Connectivity LU JIANG. Lu states that LoRaWAN is more easily affected by a noisy channel than NB-IoT. And as LoRa uses an unlicensed spectrum, there may be several transmissions simultaneously in the band. The signals may interfere with each other. This will result in a lower SNR value (Signal to Noise ratio). On the other hand, NB-IoT works on licensed spectrum, so the disturbance from other signals will be more negligible.
Lu also points out the drawbacks of LoRaWANs MAC-layer and says it "is less mature than NB-IoT". You can see for yourself if you download the report and look at section 2.2.3. Lu describes this as "LoRa implements duty cycle, and once a collision happened, the packet would lose. However, NB-IoT will check whether the channel is idle before sending packets. " Due to these two reasons, NB-IoT usually has a lower collision rate than LoRaWAN. This is, of course, an indicator of signal integrity.
If we also look at the thesis from the University in Lund, Department of Electrical and Information Technology Faculty of Engineering by Nikolaos Tsavalos and Ahmad Abu Hashem. I have mentioned it before. They compared the battery lifetime of different LPWA technologies on average coverage of MCL = 150 dB and stated the following ranges in their thesis: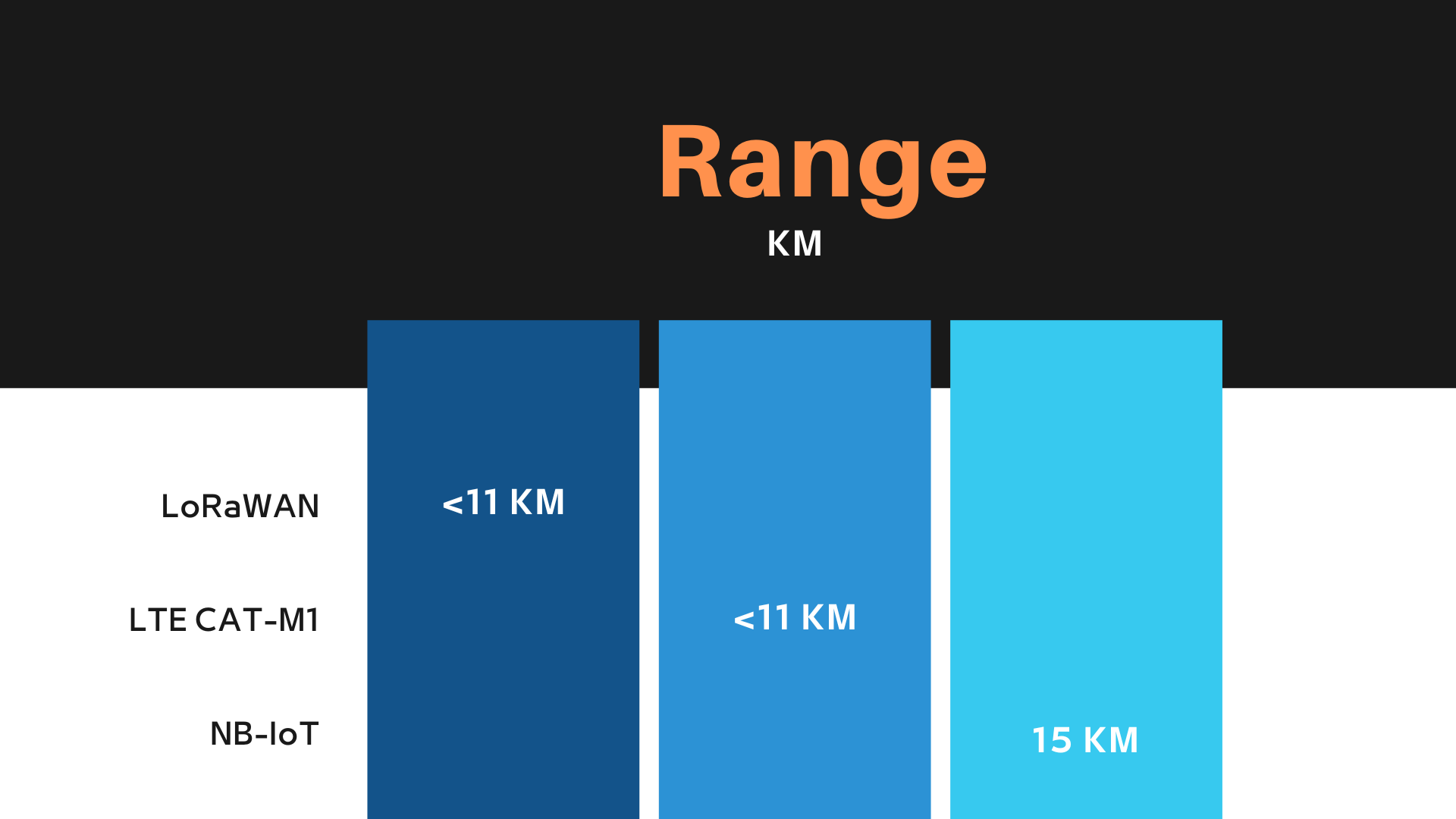 In real life, you will most likely see similar results across technologies if you compare them neck to neck. Cellular technologies are probably better if you are in a situation with lousy signal integrity.
In the real world
I also want to share research done by Kamil Staniec, Michał Kucharzak, Zbigniew Jóskiewicz and Bartłomiej Chowanski from the Telecommunications and Teleinformatics Department,Wrocław University of Science and Technology. They have done practical tests in their report Measurement-Based Investigations of the NB-IoT Uplink Performance at Boundary Propagation Conditions.
The interesting thing is that they have also tested other IoT technologies, such as LoRaWAN, were the performance was measured against interference and channel fading. The results in that report were calculated from another formula but converted into MCL in order to compare it with NB-IoT performance. The team were able to report that NB-IoT in practice had an MCL of 164 dB and outperformed LoRaWAN.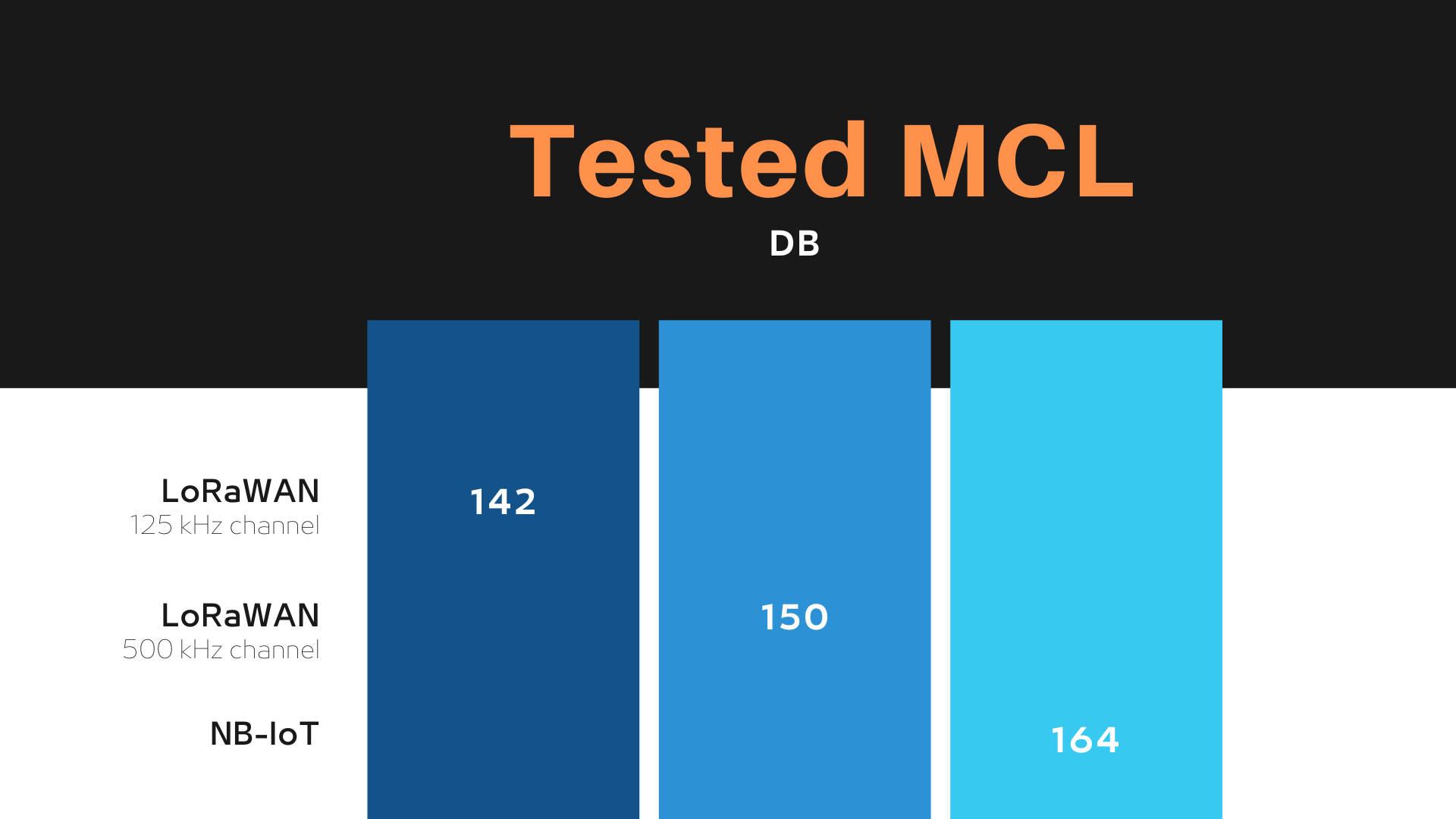 Globally, LoRaWAN is using either 125 or 250 or 500 kHz, although not all channel widths are supported in each region. In Europe 125 kHz seems to be the most common channel separation although 250 is also used. I am not 100% sure about when 125 and when 250 is used, but never the less, you can clearly see that the tests are below stated MCL.
Back to the start, the statement from LoRa Alliance.
Is there any truth behind the "LTE: Coverage dependant on the operators LTE target services for voice and data. "-statement? Well, of course, the operators will follow the revenue streams, but it is not just all about voice and data. The LoRaWAN technology is better suited for low-cost local last mile IoT networks if you want coverage. It is cheaper than your private 5G network to build if you look at just the price. However, when it comes to distance, it is the mobile networks that have the upper hand.
Based on this, I would say that a better statement for LoRa Alliance would be
LoRaWAN: coverage up to 5 kilometres from base stations in urban areas and 10-15 in rural areas.
5G: coverage up to 5 kilometres from base stations in urban areas and 10-15 kilometres in rural areas.
So, that is all. The next post will be about indoor coverage.